Enlaces refback
No hay ningún enlace refback.
---
Estadísticas
Visitas al Resumen:369
PDF:220
Cuadernos de Marte, Revista latinoamericana de Sociología de la Guerra es una publicación oficial del Insituto de Investigaciones Gino Germani, dependiente de la Facultad de Ciencias Sociales de la Universidad de Buenos Aires, Argentina.
ISSN 1852-9879

Esta obra está bajo una licencia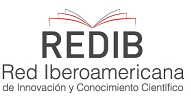 Cuadernos de Marte está indizada en el catálogo de Latindex 2.0 (cumpliendo 36 de los 37 requisitos de excelencia editorial y académica del índice), en Latinoamericana (Asociación de revistas académicas de humanidades y ciencias sociales), en ERIH PLUS (European Reference Index for the Humanities and Social Sciences), en BASE (Bielefield Academic Search Engine), en BINPAR (Bibliografía Nacional de Publicaciones Periódicas Registradas), en REDIB (Red Iberoamericana de Innovación y Conocimiento), en el Directorio de Publicaciones Argentinas del CAICYT - CONICET, en MIAR (Matriz de Información para el Análisis de Revistas), en DIALNET (hemeroteca de la Fundación Dialnet, del Equipo de Gobierno de la Universidad de La Rioja), en LATINREV (Red de Revistas Latinoamericanas de FLACSO), en el RDIUBA (Repositorio Digital Institucional de la Universidad de Buenos Aires), en OAJI (Open Academic Journals Index), en ResearcH (Directorio de Revistas de Journals & Autors), en SIS (Scientific Indexing Service), en la CIRC (Clasificación integrada de Revistas Científicas), en EUROPUB (Academic and Scholarly Research Publication Center), en DOAJ (Directory of Open Access Journals), en LATAM-Studies+ (Estudios Latinoamericanos), en SUNCAT (Serial Union Catalogue), en Open Science Directory (by EBSCO), en PERIODICOS CAPES (Brasil), en SHERPA ROMEO, en JOURNAL TOCS (Table of Contents), en Elektronische Zeitschriftenbibliothek, en MALENA, en WORLD CAT, en HOLLIS (Harvard Library), en ORBIS (Yale University Library Catalog), en OPAC plus (Kanazawa University Library ), en el catálogo de la KIUSHY UNIVERSITY LIBRARY, en CITEFACTOR, en Journals4Free y en Mir@bel.
LISTADO DE REVISTAS PARTICIPANTES EN LATINOAMERICANA (Nº 289)
FICHA DE CUADERNOS DE MARTE EN ERIH PLUS
FICHA DE CUADERNOS DE MARTE EN BASE
FICHA DE CUADERNOS DE MARTE EN BINPAR
FICHA DE CUADERNOS DE MARTE EN REDIB 
DIRECTORIO DE PUBLICACIONES ARGENTINAS CON OJS (CAICYT)
FICHA DE CUADERNOS DE MARTE EN MIAR
FICHA DE CUADERNOS DE MARTE EN DIALNET
CUADERNOS DE MARTE EN LATINREV
FICHA DE CUADERNOS DE MARTE EN REDIUBA
FICHA DE CUADERNOS DE MARTE EN OAJI
FICHA DE CUADERNOS DE MARTE EN RESEARCH
FICHA DE CUADERNOS DE MARTE EN CIRC
FICHA DE CUADERNOS DE MARTE EN SIS
FICHA DE CUADERNOS DE MARTE EN EUROPUB 
FICHA DE CUARDERNOS DE MARTE EN DOAJ
FICHA DE CUADERNOS DE MARTE EN LATAMPLUS
FICHA DE CUADERNOS DE MARTE EN SUNCAT
FICHA DE CUADERNOS DE MARTE EN OPEN SCIENCE DIRECTORY